Re-Centering Delhi
2014
On Forgotten Gods and Shifting Landscapes / New Delhi Propelled by aspirations to re-center New Delhi, [Trans-Yamuna] reconnects the citizens to the once-sacred Yamuna River by transforming the river bypasses into linear communities of multiplied function. Each bridge becomes a new prototype for living. Arteries of transportation, housing, commerce, agricultural production, and communal gathering; all functions are hybridized into a narrow infrastructural maidan perched above the dynamic floodplain. By densifying the current bridges into cultural centers of activity, a new nexus will stitch the city's east and west divisions together and reestablish the Yamuna as the beating heart of the city.
Since the river floods from regional monsoons, the city has shied far back from the water's dynamic edge, leaving a wide and mostly unoccupied floodplain that runs the length of the city. Industry has planted itself here. Because of industrial toxins, coupled with the city's unchecked sewage dumping, the Yamuna is now completely devoid of biological life; no one wants to be near it. 
Delhi's lowest echelon has found refuge on the floodplain. Slum-dwellers use the land illegally for agriculture, growing poisoned crops to sell within the city's informal markets. This social sub-condition goes unnoticed though, because the river is physically inaccessible. In fact, the only place where the river is even visible is from atop the city's bridges. [

Trans-Yamuna

] focuses on one of these bridges as the site for a new public territory that will rehabilitate the ecoregion and re-center New Delhi upon the once-sacred Yamuna River.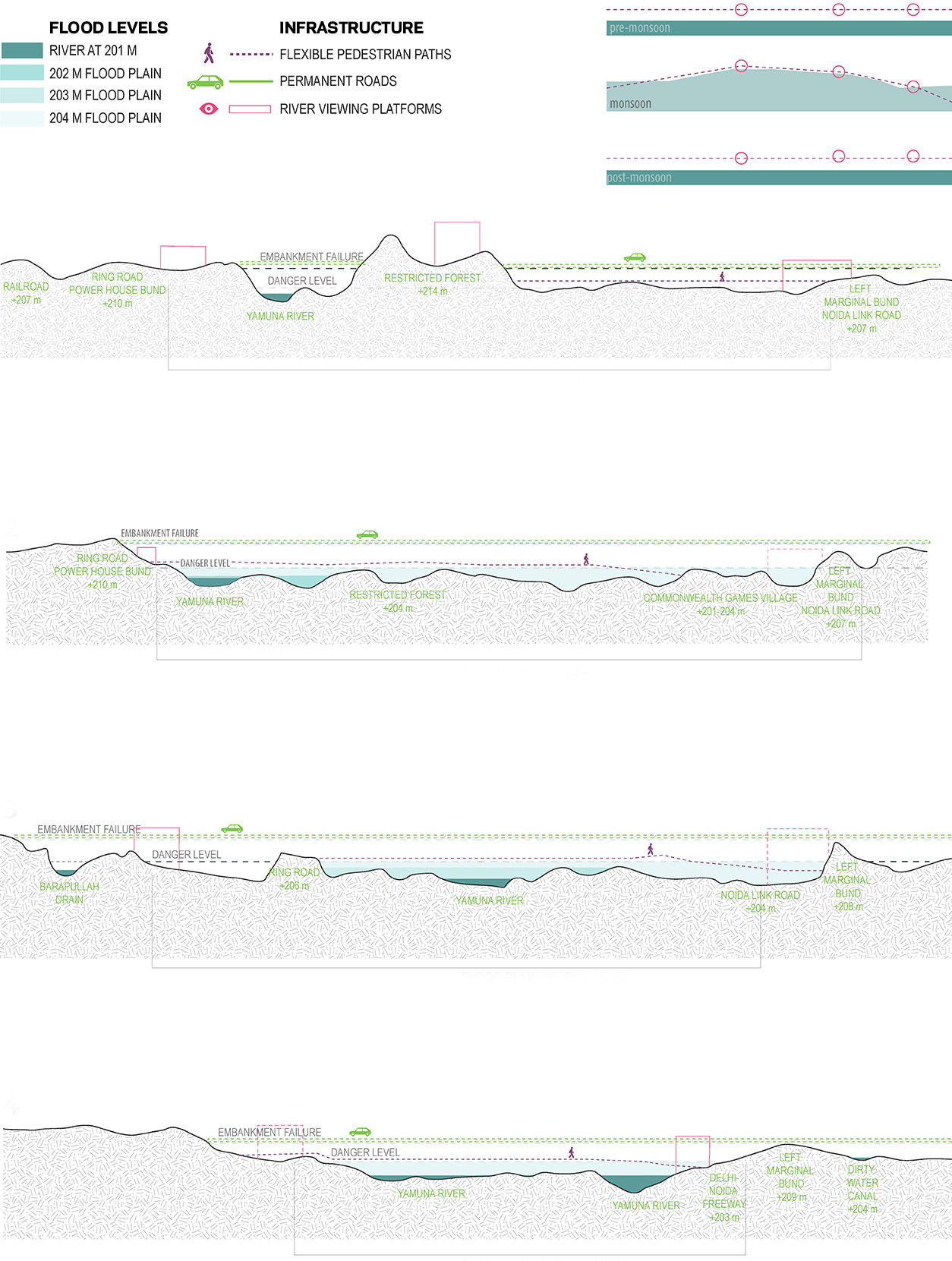 Hapur Bypass offers a prime location for a new prototype of living and communal gathering. With its existing twin-bridge structure, one road hosts vehicular traffic while the other converts into a new pedestrian promenade. From this, commercial agoraes combine with vertical housing villages, industrial-harvesting facilities, and a metro station to form a linear community of hybridized function. Hapur Bypass transforms into a narrow infrastructural maidan that encourages social interaction between all citizen classes, a trend that has faded with the stepwells of old. It is a new riparian destination, both urban and agrestal, integrating unobtrusively with the volatile monsoon floodplain. The land is relinquished back to the Yamuna, seasonal floods rush uninhibited, and the lush plains are optimized to an agrarian state of production. 
This new community weaves everyday practices and cultural routines around an interactive subsurface constructed wetland, which filters city runoff and landfill leachate before it can contaminate the river. Water purification becomes visible through these stepped basins, and clean water emerges to irrigate the surrounding agriculture. The food is then harvested back into the community's market, and through this cycle, the inhabitants understand the site, its natural systems, and their own position within the landscape.
[

Trans-Yamuna

] is the first in a series of super-bridge communities that respond to the city's major infrastructural deficiencies: unregulated agriculture, sanitation, waste management, commercial dysfunction, and lack of housing. By densifying the current bridges into cultural centers of activity, a new nexus will link the city's east and west divisions together and reestablish the Yamuna as the beating heart of the city.
New Delhi's housing deficit parallels its incredible population growth. With a large percentage of migrants relocating from impoverished rural villages, most are unable to afford planned housing and must resort to informal settlements. These slums lack even basic amenities and foster unsanitary living conditions that fall well short of humane. Only 24 percent of the urban population lives in planned colonies; 76 percent live in these substandard housing areas. Many are homeless. In a mega-city of 18 million people, this is a social crisis on an unprecedented scale.
New Delhi's existing metro system provides a clean, reliable, and efficient mode of transportation to important urban centers around the city. Current lines reach far and wide, supporting regional sprawl and a network focused on distance rather than densification. Already at full capacity, the metro system must now expand its number of lines and stops within the city itself, in order to increase ridership and convenience and multiply connections to new urban nexuses. A short, yet critical, north-south metro line is now needed between Delhi Gate and Hazrat Nizamuddin in order to support the proposed development of the Yamuna Cultural Corridor and [

TransYamuna

].